Personal Debit Cards
Safer than cash, more convenient than checks.
Put your checking account to work at any time with our free VISA® Debit Card. Make purchases anywhere debit or credit cards are accepted, without the time and trouble of writing or recording a check. Then track your purchases easily using your online banking account or monthly statement! We can have one made for you in any branch location -just a few minutes after you request it!
The latest in chip technology helps keep your transactions safe. You can also sign up for free,
customizable purchase alerts. Simplify travel plans by carrying your card instead of cash or checks. And that's not all—use your card for cash at any fee-free
Glacier Family of Banks ATM
.
A free VISA® Debit Card is available with your checking account, and offers advantages over a credit card:


Simpler and easier to get than a credit card
Debit cards are more readily accepted than checks almost everywhere

Travel safely without packing cash or checks
Use your debit card at ATMs when you need cash (no fee at any Glacier Family of Banks ATM)  access 

Plus, we have joined and are a part of the Surcharge Free ATM Network giving you access to over 55,000+ ATMs worldwide. Find an Allpoint ATM location

See a description of every purchase or ATM cash withdrawal with your online banking account, or on your monthly checking account statement
Our free VISA® Debit Cards are issued instantly at any CCB branch location. 
What is MyCardRules™?
MyCardRules™ is an easy to use debit card management service that has been conveniently integrated within our Glacier Family of Banks mobile app. This service is FREE to Citizens Community Bank card users and allows you to manage debit card controls, add restrictions, and receive transaction alerts. 
How does MyCardRules™ let me manage my card?

MyCardRules™ allows you to manage your spending right from our Glacier Family of Banks mobile app by setting up a wide range of controls, alerts, and protection on selected CCB debit cards. Additionally, knowing that you've set rules that meet your specific spending preferences adds another layer of fraud detection and prevention.
        Alerts and Protection Features include:
Set transaction spending limits based on dollar amount, transaction type, and merchant type 
Receive instant alerts on certain types of transactions, option to setup text or email messages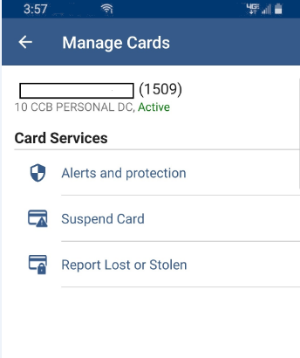 How do I get started?
To access MyCardRules™, log into the latest version of our Glacier Family of Banks mobile app. NOTE: You may need to delete & reinstall our mobile app to download the latest version.

       

                                                           

 

From the main menu, select "Preferences > Manage Cards" section and choose the debit card  to manage                                                      

From the Manage Cards screen, select "Alerts and Protection"                                                       

                                   

Choose the "Protection Options" to setup alerts for specific types of transactions- Locations (International Transactions), Merchant Type (Gas Station/Grocery Store/Restaurant/Travel), Transaction Types (Online Purchases/In Store/Recurring), or Spending Limits (Specific Dollar Amounts/Monthly Spending Limits)                                                                                                
Select "Manage" under "Notification Settings" to select the method you'll receive alerts and notifications
Notifications will be sent immediately after the specified transaction, by the method selected either text message or email; in-app messages must be accessed through the mobile app
Report Fraud

If you suspect fraudulent activity on your account please contact us as soon as possible. 




To Report Lost or Stolen Card
Call: 1-888-297-3416

Visit any branch and we will help you!
Using your online banking account:
Log in to your account
Choose the "Options" tab
Select "ATM/Debit Card," and click on the "Lost/Stolen" box next to the card you need to report
Using your mobile banking app:
Log in to your account
Select "Preferences" option
Choose "Manage Cards", select which debit card to manage, and choose "Report Lost or Stolen"